Counselor Licensing Requirements in Arizona
Making sure that you have met the appropriate Counselor Licensing Requirements in Arizona is very important! When you start your practice in the state of Arizona, you will be licensed as a Licensed Associate Counselor. Once you have completed all the counseling requirements for the state, you can advance to the Licensed Professional Counselor status. Eligible individuals over twenty-one years of age, once qualified, can receive both of these credentials through the Arizona Board of Behavioral Health Examiners. The Arizona Board of Health Examiners also approves licensing for the following:
mental health counselors
professional counselors
social workers
substance abuse counselors
and marriage and family therapists
The following represents the requirements to become a Licensed Professional Counselor in the state of Arizona. For any inquiries, feel free to contact the Arizona Board of Behavioral Health Examiners at (602)-542-1882.
Arizona Counselor Credential Titles
Licensed Professional Counselor
(LPC)
Licensed Associate Counselor
(LAC) LACs shall practice only under direct supervision as prescribed by the board and shall not engage in independent practice.
Find schools and get information on the program that's right for you. (It's fast and free!)
Featured Schools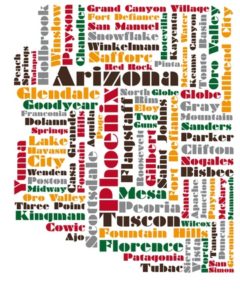 Arizona LPC Requirements
Master's degree or higher in counseling or a related field from a program that is either CACREP or CORE accredited "or equivalent" or includes a minimum of 60 semester hours and completion of coursework in 14 content areas. As of October 31, 2015: If a program is not accredited by CACREP or CORE, it must require 700 clinical supervision hours and a minimum of 24 semester hours in 8 content areas.
Arizona Counselor Experiential Requirements
2 years/3,200 hours of full-time post-master's supervised work experience in psychotherapy, including assessment, diagnosis, and treatment. 100 hours of clinical supervision and 1,600 hours of direct client contact are required. No more than 400 of the additional hours can be psycho-educational. Applicant must receive a minimum of 10 hours of clinical supervision obtained during direct observation or a review of audiotapes/videotapes by the clinical supervisor while the applicant is providing treatment and evaluation services to a client.
Click here and discover what online counseling and psychology educational opportunities are a match for you!
Arizona Counseling Exams Required
NCE, NCMHCE or CRCE
Requirements for Clinical Supervisors
Licensed as a professional counselor, marriage and family therapist, clinical social worker, psychologist, or an allopathic or osteopathic medical doctor with a specialty in psychiatry, and 12 clock hours of continuing education in four defined categories. Clinical supervision training requirements can be waived if the clinical supervisor holds the NBCC recognized Approved Clinical Supervision (ACS) credential issued through the Center for Credentialing & Education, Inc. (CCE). 6 CEUs in supervision required every licensure renewal period.
Requirements for Out of State Applicants
An applicant is eligible for licensure by reciprocity if the applicant meets the following requirements, as applicable: 1.) The applicant is currently certified or licensed in another state by a state regulatory agency in professional counseling and the license or certification is in effect and in good standing; 2.) Passage of an examination was required for certification or licensure and the applicant passed the exam, or the applicant passes the exam required for licensure in Arizona; 3.) The credentialing committee determines that the applicant's qualifications substantially meet the board's current licensure requirements; 4.) Prior to applying for licensure, applicant has engaged in the practice of professional counseling for a minimum of 800 hours each year for at least 5 out of the last 7 years in the state issuing the license used by the applicant to qualify for licensure by reciprocity; and 5.) The applicant is not the subject of a pending complaint before the board or any other state behavioral health regulatory entity and has not had their license or certificate to practice professional counseling suspended or revoked by another state behavioral health regulatory entity.
Scope of Practice
"PRACTICE OF PROFESSIONAL COUNSELING" means the professional application of mental health, psychological and human development theories, principles and techniques to: a. Facilitate human development and adjustment throughout the human life span. b. Assess and facilitate career development. c. Treat interpersonal relationship issues and nervous, mental and emotional disorders that are cognitive, affective or behavioral. d. Manage symptoms of mental illness. e. Access, appraise, evaluate, diagnose and treat individuals, couples, families and groups through the use of psychotherapy.
Counselor Salaries in Arizona
A counselor in Arizona can make between $33,040 and $53,760 per year (according to the Bureau of Labor Statistics). Now that you are familiar with the counselor licensing requirements in Arizona, visit our
How to Become a Counselor in Arizona
page for a more detailed look into the steps you will need to take to make your dream of becoming a counselor a reality.
Additional Information for Counselor Licensing Requirements in AZ
AZ Board of Behavioral Health Examiners
3443 N. Central Avenue Suite 1700 Phoenix, AZ 85012 602-542-1864 (phone)
http://www.nbcc.org/directory/AZ
Application fee: $250 LPC License fee: $250 LAC License fee: $100 Temporary License fee: $50 Fingerprint Background Check: $29
Source: www.azbbhe.us