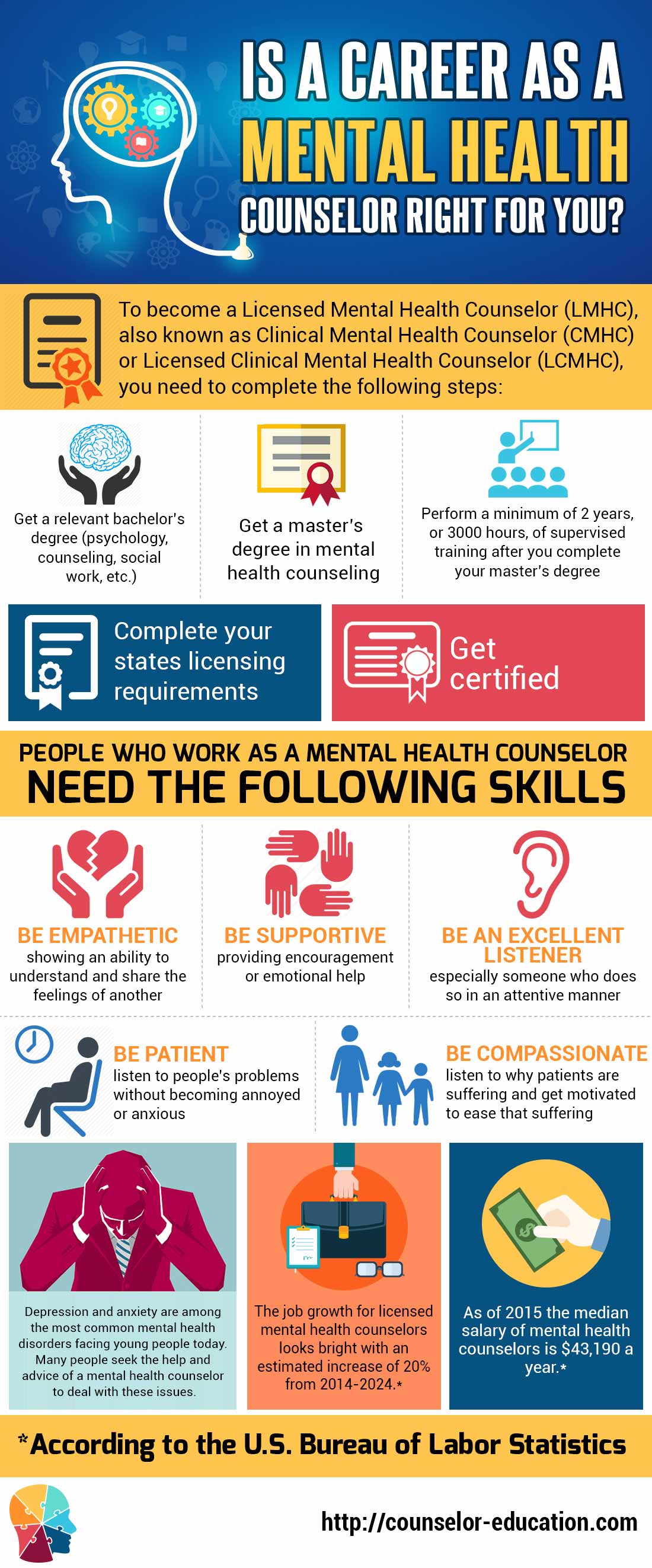 Is a Career as a Mental Health Counselor Right for You?
To become a Licensed Mental Health Counselor (LMHC), also known as Clinical Mental Health Counselor (CMHC) or Licensed Clinical Mental Health Counselor (LCMHC), you need to complete the following steps:
Get a relevant bachelor's degree (psychology, counseling, social work, etc.)
Get a master's degree in mental health counseling
Perform a minimum of 2 years, or 3000 hours, of supervised training after you complete your master's degree
Complete your states licensing requirements
Get certified
People who work as a mental Health counselor need the following skills:
Be empathetic – showing an ability to understand and share the feelings of another
Be supportive – providing encouragement or emotional help
Be an excellent listener – especially someone who does so in an attentive manner
Be patient – listen to people's problems without becoming annoyed or anxious
Be compassionate – listen to why patients are suffering and get motivated to ease that suffering
Depression and anxiety are among the most common mental health disorders facing young people today. Many people seek the help and advice of a mental health counselor to deal with these issues. The job growth for licensed mental health counselors looks bright with an estimated increase of 20% from 2014-2024.* As of 2015 the median salary of mental health counselors is $43,190 a year.* *According to the U.S. Bureau of Labor Statistics
TJ is a managing partner of USA-LEADS. USA-LEADS creates comprehensive and informative websites for individuals looking for educational information about the requirements and certifications needed in a given field. He has been in the digital space since 2009 and quickly went from having ZERO knowledge of all things internet to becoming the Director of Web Services at a custom software development company. Prior to entering the space he taught children with learning differences for 9 years.