Counselor Licensing Requirements in Michigan
We want to provide you with a helpful overview of the important Counselor Licensing Requirements Michigan to become a professional counselor in Michigan.
You will need to achieve a graduate education, pass the licensing exams, and pass a background check in order to receive licensure as a professional counselor in the state of Michigan. For you to attain full professional licensure, you are going to be required to work under a supervisor for at least one to two years.
Michigan Counselor Credential Titles
Licensed Professional Counselor
(LPC)
Limited Licensed Professional Counselor
(LLPC) A limited license is issued to those who have not yet completed the 3,000-hour supervised counseling experience; valid for one year and may be renewed.
Michigan Counselor Education Requirements
Master's degree or higher in professional counseling from a program that reflects the CACREP curriculum, including a minimum of 48 semester hours and a 600-clock-hour internship.
Michigan Counselor Experiential Requirements
2 years/3,000 hours of post-degree supervised counseling experience. To include a minimum of 100 hours under the immediate physical presence of the supervisor. Supervision must be under an LPC.
For persons with 30 semester hours or 45 quarter hours beyond the master's degree: 1 year/1,500 hours post-degree supervised experience. To include a minimum of 50 hours under the immediate physical presence of the supervisor. Supervision must be under an LPC.
Find schools and get information on the program that's right for you. (It's fast and free!)
Featured Schools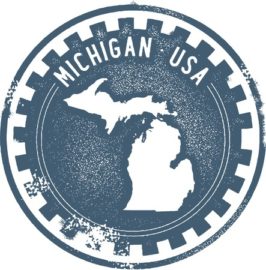 Michigan Counseling Exams Required
NCE or CRCE
Requirements for Clinical Supervisors
Licensed as a professional counselor with training in the function of supervision. Effective January 1, 2013: minimum 3 years of practice; completed supervision training – shall include both (a) Include 1 of the following as specialized training:
(i) 2 semester hours of graduate credit in training in counseling supervision.
(ii) 30 contact hours of workshop training in counseling supervision.
Click here and discover what online counseling and psychology educational opportunities are a match for you!
Requirements for Out of State Applicants
An applicant for a professional counselor or professional clinical counselor license by endorsement shall submit a completed application on a form provided by the Department, together with the requisite fee. If an applicant has been licensed in another state, and has been engaged in the practice of counseling for a minimum of 5 years before the date of filing an application for Michigan licensure, the applicant may apply by endorsement. Completed license verification forms must be sent directly to the Michigan Board from every state in which the applicant has ever been licensed.
Scope of Practice
"PRACTICE OF COUNSELING" or "COUNSELING" means the rendering to individuals, groups, families, organizations, or the general public a service involving the application of clinical counseling principles, methods, or procedures for the purpose of achieving social, personal, career, and emotional development and with the goal of promoting and enhancing healthy self-actualizing and satisfying lifestyles whether the services are rendered in an educational, business, health, private practice, or human services setting. The practice of counseling does not include the practice of psychology except for those preventive techniques, counseling techniques, or behavior modification techniques for which the licensed professional counselor or limited licensed counselor has been specifically trained. The practice of counseling does not include the practice of medicine such as prescribing drugs or administering electroconvulsive therapy. "COUNSELING PRINCIPLES, METHODS, OR PROCEDURES" means a developmental approach that systematically assists an individual through the application of any of the following procedures: Evaluation and appraisal techniques. As used in this subparagraph, "appraisal techniques" means selecting, administering, scoring, and interpreting instruments and procedures designed to assess an individual's aptitudes, interests, attitudes, abilities, achievements, and personal characteristics for developmental purposes and not for psychodiagnostic purposes.
Exploring alternative solutions.
Developing and providing a counseling plan for mental and emotional development.
Guidance.
Psychoeducational consulting.
Learning theory.
Individual and group techniques emphasizing prevention.
Counseling techniques.
Behavioral modification techniques.
Referrals. As used in this subparagraph, referral includes determining the need for referral to 1 or more statutorily regulated mental health professionals whose expertise, skills, and competence are appropriate to the problems of the individual, informing the individual of the referral, and communicating as appropriate with the professional to whom the individual has been referred.
"COUNSELING TECHNIQUES" means the application of basic counseling and psychotherapy skills and theories in the counseling process in order to do all of the following:
Establish and maintain the counseling relationship.
Diagnose and identify the problem.
Formulate a preventive, treatment, or rehabilitative plan.
Facilitate appropriate interventions.
Counselor Salaries in Michigan
In the state of Michigan, counselors love what they do. Each day they go into work they are actively improving the lives of those around them and and the state rewards them well for it. According to the Bureau of Labor Statistics, a general counselor in the state of Michigan brings home and average salary between $39,880 and $54,780 per year. Now that you are familiar with the counselor licensing requirements in Michigan, visit our
How to Become a Counselor in Michigan
page for a more detailed look into the steps you will need to take to make your dream of becoming a counselor a reality.
Additional Information About Counselor Licensing Requirements in Michigan
MI Board of Counseling
P.O. Box 30670 Lansing, MI 48909 517-335-0918
http://www.michigan.gov/
LPC License: $115 LLPC License: $80