Counselor Licensing Requirements in Oklahoma
We want to ensure that you have timely and relevant information regarding Counselor Licensing Requirements in Oklahoma in order to become a Licensed Professional Counselor in Oklahoma. Counselor licensing requirements can be tough, but we hope to make this process a little easier for you.
With regard to Oklahoma's regulation of professional counselors, the state only has one primary level of licensure: which is a Licensed Professional Counselor (LPC). This status cannot be achieved unless you have concluded 2 years of administered work experience.
Additionally, you are required to submit the majority of your applications prior to beginning your practice. But, before you can start accumulating experience, you must satisfy multiple requirements. These include education and documentation of satisfactory professional and legal background.
The intention of this guide is to provide a simpler way to navigate the path to completing the LPC requirements in Oklahoma. If questions, please contact Oklahoma's Professional Counselor Licensing Division at (405) 522-3696.
Oklahoma Counselor Credential Titles
Licensed Professional Counselor
(LPC)
Licensed Professional Counselor Candidate
(LPC-candidate) An individual may be granted licensure as Licensed Professional Counselor Candidate to practice counseling under the direct supervision of an approved LPC supervisor.
Find schools and get information on the program that's right for you. (It's fast and free!)
Featured Schools
Oklahoma Counselor Educational Requirements
Master's degree or higher in counseling or a related mental health field, with 60 graduate semester hours (or 90 quarter hours) from a regionally accredited college/university. Completion of coursework in 10 areas and a counseling practicum/internship of 300 clock hours.
The board will define what qualifies as counseling related.
Oklahoma Counselor Experiential Requirements
3 years/3,000 hours of full-time post-application professional counseling experience supervised by an approved LPC Supervisor. For every 1,000 hours, 350 hours must be direct face-to-face contact. Face-to-face supervision must be 45 minutes for every 20 hours of experience. Up to 2 years of the required experience may be gained at a rate of 1 year for each 30- graduate semester hours beyond the master's degree, provided that such hours are clearly related to the field of counseling and acceptable to the board. The applicant shall have no less than 1 year of supervised full-time experience in counseling.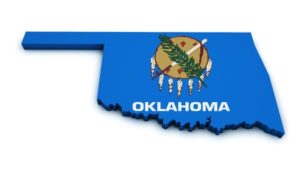 Oklahoma Counseling Exams Required
NCE and Oklahoma Legal & Ethical Responsibilities Exam (as pertains to LPCs)
Click here and discover what online counseling and psychology educational opportunities are a match for you!
Oklahoma Requirements for Clinical Supervisors
Licensed as a professional counselor, marriage and family therapist, clinical psychologist, or clinical social worker, with at least 3 years of clinically supervised experience and completion of 30 clock hours of post-master's training on how to be a clinical mental health supervisor OR hold the NBCC recognized Approved Clinical Supervisor (ACS) credential issued through the Center for Credentialing & Education, Inc. (CCE). LPC Supervisors must be licensed in Oregon for 3 years. LMFT Supervisors must have 5 years of clinical experience. Up to 75% of individual supervision can be electronic and 50% of the supervision can be group supervision.
Oklahoma Requirements for Out of State Applicants
An applicant applying for licensure by endorsement must have qualifications comparable to those required under the LPC Act as deemed by the Commissioner of Health. The Department may require the applicant to submit a copy of the statute and rules of the agency issuing the license. An applicant must submit the application form and related documents as requested, licensure fees, three current documents of recommendation, and official transcripts. (a) The Department shall issue a license by full endorsement to an applicant who is licensed or certified as a professional counselor in another jurisdiction and who meets the following: 1.) The applicant's professional counselor's license in the other jurisdiction is active and in good standing with no history of suspension or revocation action against the license; 2.) The applicant fulfills the requirements of the Oklahoma LPC Act; 3.) The applicant must have at least a master's degree in a counseling field from a regionally accredited college or university; 4.) The applicant takes and passes the NCE, unless the applicant has passed a written counseling exam that, in the judgment of the Department, is substantially equivalent to the NCE; and, 5.) The applicant takes and passes the Oklahoma Legal and Ethical Responsibilities Examination. (b) The Department shall issue a two (2) year, non-renewable license by endorsement to applicants seeking full endorsement who do not fulfill the requirements set forth in section a above, but only under the following conditions: 1.) The applicant must show proof of continuous practice in counseling for five (5) years prior to application in Oklahoma; 2.) The applicant must show proof of professional counselor licensure in the other jurisdiction is current and in good standing, with no history of suspension or revocation against the license; 3.) The applicant takes and passes the NCE; and, 4.) The applicant completes all deficient coursework to meet the academic requirements for licensure in Oklahoma. (c) The license by endorsement will expire after 2 years from the date of issue. Failure to fulfill the requirements as provided in this subsection, within the two (2) year licensure period, will require the applicant to fulfill licensure requirements set forth in Section 1906 (C)(1)(2) of the LPC Act.
Oklahoma Scope of Practice
"COUNSELING"
means the application of mental health and developmental principles in order to: a. Facilitate human development and adjustment throughout the life span; b. Prevent, diagnose or treat mental, emotional or behavioral disorders or associated distress which interfere with mental health; c. Conduct assessments or diagnoses for the purpose of establishing treatment goals and objectives; and d. Plan, implement or evaluate treatment plans using counseling treatment interventions.
Salary Outlook for Counselors in Oklahoma
Oklahoma counselors find fulfillment in their jobs in many ways. Counseling in the state of Oklahoma allows those who practice it to better those around them, while bringing home a good living for their own families. According to the Bureau of Labor Statistics, a general counselor in Oklahoma earns between $29,910 and $44,610 per year. Now that you are familiar with the counselor licensing requirements in Oklahoma, visit our
How to Become a Counselor in Oklahoma
page for a more detailed look into the steps you will need to take to make your dream of becoming a counselor a reality.
Additional Information about LPC Requirements in Oklahoma
OK State Board of Behavioral Health Licensure
1000 N.E. 10th Street Oklahoma City, OK 73117 405-522-3696
https://www.ok.gov/behavioralhealth/
Application fee: $125
Some worthwhile organizations to look into are:  Oklahoma Counseling Association (
OCA
) and the Oklahoma Mental Health Counselors Association (
OMHA
).
Sources: https://www.ok.gov, http://web.oru.edu