Counselor Licensing Requirements in West Virginia
Counselor Licensing Requirements in West Virginia are covered on this page. We want to ensure that you have accurate information about Counselor Licensing Requirements in West Virginia so that you can make informed decisions regarding your counselor career.
The West Virginia Board of Examiners in Counseling issues licenses at two levels. When you satisfy all requirements, you will become a Licensed Professional Counselor or LPC in West Virginia. You will work as a Provisionally Licensed Counselor while fulfilling requirements for supervised practice.
West Virginia Counselor Credential Titles
Licensed Professional Counselor
(LPC)
Provisional Licensed Professional Counselor
An applicant who has met the education and exam requirements, but not the 2 years supervised experience requirement
West Virginia Counselor Education Requirements
Master's degree or higher from a program accredited by CACREP or CORE, or a comparable accrediting body, that includes 60 graduate semester hours (or 90 quarter hours) and a practicum and internship. Acceptable graduate degrees include a specialization in community agency counseling, mental health counseling, pastoral counseling, rehabilitation counseling, school counseling, and substance abuse or addiction counseling. Similar degrees that include the word "counseling" include specific coursework, and are determined by the board to be a closely related field, are also acceptable.
Find schools and get information on the program that's right for you. (It's fast and free!)
Featured Schools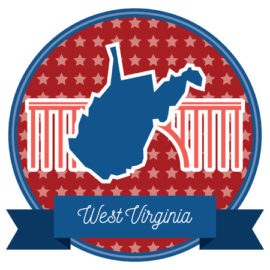 West Virginia Counselor Experiential Requirements
Must already possess provisional license 2 years/3,000 hours of postmaster's supervised professional counseling experience. If obtained a doctoral degree: 1 year/1,500 hours of post-degree supervised professional counseling experience. At least 50% of the supervised counseling experience must be in the direct provision of counseling services to clients. A minimum of 1 hour of direct individual supervision is required for every 20 hours of practice. Supervision must be under a board-approved professional.
Click here and discover what online counseling and psychology educational opportunities are a match for you!
West Virginia Counselor Exam Required
NCE, CRCE, or NCMHCE
West Virginia Requirements for Clinical Supervisors
West Virginia LPC Licensed as a professional counselor, or other qualified supervisor as determined by the Board. At a minimum the professional should be licensed for 2 years with 5 years of counseling experience, completion of training in clinical counseling supervision, is currently licensed, and board approval. Supervisors must be pre-approved before hours can begin to accrue. The professional supervisor provides a statement detailing counseling philosophy, supervision experience, and counseling experience as well as being able to demonstrate skills necessary to address core areas of practice.
West Virginia Requirements for Out of State Applicants
An individual may apply for reciprocity review if the individual is currently licensed in another state whose licensing requirements are greater than or equal to the requirements in this rule as determined by the board. It is the applicant's responsibility to provide the documentation necessary for the board to make an appropriate decision on reciprocity. The following documentation is required for the board to review for reciprocity: a completed WV application form and the required fee; copies of graduate transcripts from the issuing institutions; a certified copy, including exam results, of the applicant's file from the jurisdiction where currently licensed; and two completed professional recommendation forms from individuals permanently licensed as professional counselors, psychologists, social workers, or psychiatrists on forms provided by the board. Persons with a temporary license cannot complete the recommendation form.
West Virginia Scope of Practice
"PROFESSIONAL COUNSELING" means the assessment, diagnosis, treatment and prevention of mental, emotional or addiction disorders through the application of clinical counseling procedures. Professional counseling includes the use of psychotherapy, assessment instruments, counseling, consultation, treatment planning, and supervision in the delivery of services to individuals, couples, families and groups. "CLINICAL COUNSELING PROCEDURES" means an approach to counseling that emphasizes the counselor's role in systematically assisting clients through all of the following including, but are not limited to, observing, assessing and analyzing background and current information; utilizing assessment techniques useful in appraising aptitudes, abilities, achievements, interests or attitudes; diagnosing; and developing a treatment plan. The goal of these procedures is the prevention and elimination of symptomatic, maladaptive, or undesired behavior, cognitions, or emotions in order to integrate a wellness, preventative, pathology and multicultural model of human behavior to assist an individual, couple, family, group of individuals, organization, institution or community to achieve mental, emotional, physical, social, moral, educational, spiritual, vocational or career development and adjustment through the life span of the individual, couple, family, group of individuals, organization, institution or community. The licensee's areas of competence in counseling and the services provided, based on training and experience, from the following list, as is appropriate: career counseling, consultation, diagnosis and treatment of mental and emotional disorders, employee assistance counseling, family counseling, human resources counseling, marriage counseling, mental health counseling, rehabilitation counseling, school counseling, substance abuse and addictions counseling, supervision, and vocational counseling.
Salary Information for West Virginia Counselors
In the state of West Virginia, being a counselor can be both mentally and fiscally satisfying. According to The Bureau of Labor Statistics, a counselor in the state of West Virginia will earn between $27,780 and $43,040 per year, in addition to changing the lives of individuals in their communities. Now that you are familiar with the counselor licensing requirements in West Virginia, visit our
How to Become a Counselor in West Virginia
page for a more detailed look into the steps you will need to take to make your dream of becoming a counselor a reality.
State Information
WV Board of Examiners in Counseling 812 Quarrier Street, Suite 212 Charleston, WV 25301 304/558-5494 304/558-5496 (fax)
Executive Director
Jean Ann Johnson
CONTACT:
Roxanne Clay
[email protected]
WEBSITE:
www.wvbec.org
Application fee: $200
Initial License fee: depends ondate applicant is licensed
source: http://www.legis.state.wv.us/wvcode/ChapterEntire.cfm?chap=30&art=31