Oregon Counselor Licensing Requirements
We want to make your experience easier for achieving your counselor licensing requirements in Oregon. Counselor licensing requirements in Oregon are detailed, but with the right dedication, knowledge, and focus, you can get it done successfully. We are here to help you with how to become a licensed professional counselor.
The 2 levels of credentialing for those seeking counselor licensing in Oregon are Licensed Professional Counselor (LPC) and Registered Intern (LPC-I). While starting a career in Oregon, one is required to work as an intern while you are acquiring the experience you must have in order to practice without any supervision. Criteria will differ if you started your career in a state other than Oregon.
The following information provides guidelines for counselor licensure and the LPC requirements in Oregon. If you have any questions, feel free to contact the Oregon Board of Licensed Professional Counselors and Therapists at: [email protected] or call: 503-378-5499. Check out this link.
Find schools and get information on the program that's right for you. (It's fast and free!)
Featured Schools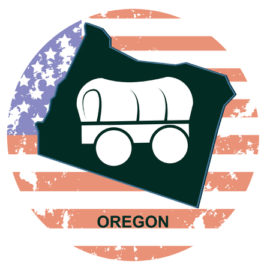 Oregon Counselor Credential Titles
Licensed Professional Counselor
(LPC)
Registered Intern
 – An applicant registered to obtain post-degree supervised work experience toward licensure.
Oregon Counselor Educational Requirements
Master's degree or higher in counseling, with 48 semester hours (or 72 quarter hours) in a CACREP or CORE accredited program, "or the content equivalent," from a regionally accredited institution. Completion of an internship/practicum consisting of 600 clock hours.
If Graduating after October 1, 2014: Master's degree or higher in counseling, with 60 semester hours (or 90 quarter hours) in a CACREP or CORE accredited program, or the content equivalent, from a regionally accredited institution.
Click here and discover what online counseling and psychology educational opportunities are a match for you!
Oregon Counselor Experiential Requirements
3 years of full-time supervised experience in counseling, including 2,400 hours of direct client contact. The supervision must take place concurrently with the direct client contact hours and must total no less than 2 hours of supervision for months where 45 or fewer direct client contact hours are completed; or total no less than 3 hours of supervision for months where 46 or more direct client contact hours are completed. Up to 75% of the individual supervision can be electronic and 50% of total supervision can be group. An approved supervisor must provide supervision. 600 (from 48 credit hours) or 700 (from 60 credit hours) client contact hours may be obtained during the clinical portion of the qualifying degree program.
Oregon Counseling Exams Required
NCE, NCMHCE, CRCE, or another exam, as approved by the board and Oregon Law and Rules Exam.
Oregon Requirements for Clinical Supervisors
Licensed as a professional counselor, marriage and family therapist, clinical psychologist, or clinical social worker, with at least 3 years of clinically supervised experience and completion of 30 clock hours of post-master training on how to be a clinical mental health supervisor OR hold the NBCC recognized Approved Clinical Supervisor (ACS) credential issued through the Center for Credentialing & Education, Inc. (CCE). LPC Supervisors must be licensed in Oregon for 3 years. LMFT Supervisors must have 5 years of clinical experience. Up to 75% of individual supervision can be electronic and 50% of the supervision can be group supervision.
Oregon Requirements for Out of State Applicants
The board does not grant blanket reciprocity. The board reviews the minimum standards for licensure by the other state at the time licensure was granted for equivalency with the board's minimum standards for Oregon licensure. The board will conduct a review for each applicant for reciprocity on an individual basis. 1.) Application for licensure is made to the board office and is on forms provided by the board. 2.) Application for licensure shall be accompanied by: a. The non-refundable application fee; b. Official transcript of graduate degree that qualified the individual for licensure in the other state; c. Verification of licensure from the other state and information on the education, experience, and examination requirements for licensure in that state at the time licensure was granted; d. Professional disclosure statement; and e. Graduate school catalog and course descriptions. 3.) Applicant is required to complete and pass an examination on Oregon laws and rules.
Oregon Scope of Practice
"PROFESSIONAL COUNSELING"
means counseling services provided to individuals, couples, families, children, groups, organizations or the general public through the therapeutic relationship, developing an understanding of personal problems, defining goals and planning action reflecting interests, abilities, aptitudes and needs as these relate to problems and concerns in personal, social, educational, rehabilitation and career adjustments. "Professional counseling" includes, but is not limited to: a. Application of counseling theories and techniques designed to assist clients with current or potential problems and to facilitate change in thinking, feeling and behaving. b. Research activities including reporting, designing, conducting, or consulting on research in counseling with human subjects. c. Referral activities including the referral to other specialists. d. Consulting activities that apply counseling procedures and interpersonal skills to provide assistance in solving problems that a client may have in relation to an individual, group, or organization. e. Record keeping activities, including documentation of counseling treatment or therapeutic services.
Salary Expectations for Oregon Counselors
In the state of Oregon, counselors have no problem finding their jobs rewarding. According to the Bureau of Labor Statistics, a general counselor in Oregon makes anywhere from $39,850 to $54,740 per year. Now that you are familiar with the counselor licensing requirements in Oregon, visit our
How to Become a Counselor in Oregon
page for a more detailed look into the steps you will need to take to make your dream of becoming a counselor a reality.
Additional Information about LPC Requirements in Oregon
OR Board of Licensed Professional Counselors and Therapists
3218 Pringle Road SE Suite 250 Salem, OR 97302-6312 503-378-5499
http://www.oregon.gov/oblpct/Pages/index.aspx
Application fee: $125
Source: http://www.oregonlaws.org/, http://www.oregon.gov/